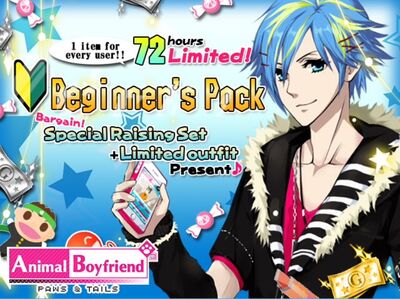 Beginner's Support Active > Beginner's Pack
Special super cheap Pack. Available only during the Support Period
Cost: 500G
Beginner's Pack

| Image | Item | Description |
| --- | --- | --- |
| | Limited edition zebra stripes x1 | Limited Beginner's Pack outfit. You can get it only now! |
| | Free gacha ticket x1 | Free Ticket for the Normal Gacha |
| | Free mini gacha ticket x1 | Free Ticket for the Mini Gacha |
| | Strawberry Candy x3 | Strawberry flavored candy. Restores 10 Chats |
| | Refreshing Chewing Gum 60 x3 | Shortens Learning time by 60 minutes |
| | Business Smile 60 x3 | Shortens Working time by 60 minutes without lowering the rewards |
| | Event Boy x2 | Regenerates event stamina, allows to skip areas during events etc.! |
Notes:
This pack of items are only available in the first 72 hrs (3 days) after registration.
Beginner's Pack can be purchased once per one person.
Contents of the Beginner's Pack will be automatically received upon purchasing.
Please check the Closet for limited clothes.
Please check the "Item" menu for other items.
Ad blocker interference detected!
Wikia is a free-to-use site that makes money from advertising. We have a modified experience for viewers using ad blockers

Wikia is not accessible if you've made further modifications. Remove the custom ad blocker rule(s) and the page will load as expected.